Interview with Indigroove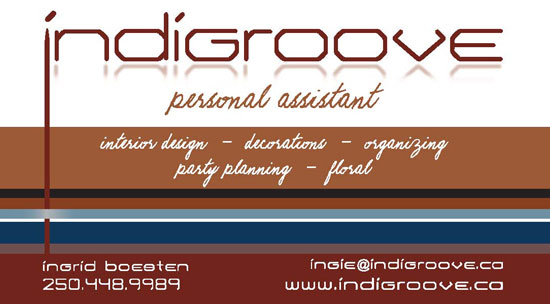 Name: Ingrid Boesten
Business: Indigroove
Occupation: Personal Assistant
Q: What exactly is a personal assistant?
Ingrid: Should I give you an ABC list of the services I provide?
Q: Sure, why not.
Ingrid: Here we go:
Appointment arrangements
Business and home organization
Complete room or house makeovers
Courier and messenger service
Cooking / meal planning
Customized artwork for your home or office
Dinner and show reservations
Driving
Dry cleaning pick up
Entertainment arrangements
Flower arranging
General errands
Grocery, Costco & department store shopping
Gift shopping, gift wrapping, and baskets
Home decorating, design and color consulting
Home organization
Household cleaning / organizing
Internet research
Ironing and folding clothes
Jobs (odd)
K-9 walking
Luncheon arrangements
Life coaching
Mending
Nesting for expecting moms
Odd (jobs)
Personal shopping
Quilting
Renovation consulting
Show reservations
Spa bookings
Seasonal plantings for your patio
Sewing
Thank-you and holiday cards
Transportation reservations
Travel arrangements
Updating your home
Visionary
Wait service (for service personnel like cable and phone repair)
Waitressing for at-home dinners
X-mas decorations
Yard  (seasonal planting)
Zillions of ideas…
So as you can see it is kind of hard to put all of this into one sentence.
Q: This isn't like an all-inclusive escort service right?
Ingrid: Funny. I guess I could, but no.
Q: What is your background?
Ingrid: I'm originally from the Netherlands, but I have lived in the USA for 9 years and now I live in Kelowna.
Q: What did you do in Holland?
Ingrid: I managed several flower stores and took that opportunity to get involved in artwork, designing, renovating and decorating. Flower arranging was just not enough for the many interests I have.
Q: What are some of the most interesting projects you've done for people?
Ingrid: Well I have done a lot of reorganizing jobs; those are always great because it really changes people's lives. Room makeovers are very rewarding because I always like to make the makeovers very personal…and of course that touches people. I helped one client put her whole house back together after it was hit by a hurricane. It was great to have a team of people to work with who made her place into a home again.
Another highlight was helping a couple (that I had only met once) clean their home will they were gone for 3 months. They gave me permission to do whatever I thought was needed so I ended up completely redoing their entire house. I painted walls & ceilings, organized the entire kitchen, purchased new towels, bedding etc. You name it, I did it. Well, they came back and that was truly one of the most touching moments of my life. We ended up working together for a long time and I became their personal assistant and friend.
Q: What have you done recently?
Ingrid: I completely renovated my own home when I moved to Kelowna and I helped my sister and brother in-law with all their closets in their beautiful home. I built shelves in about 10 closets.
Q: So it sounds like you can really do anything. What's your specialty?
Ingrid: Oh, I don't know. Finding creative ways to make things very functional.
Q: What do you love most about your work?
Ingrid: The variety; my days are never the same. I could be driving one day, shopping the next, building on the 3rd day, and making a meal for 20 people on the next. I love it.
Q: What do you charge?
Ingrid: Well, we will have to talk about that.
Q: What's the best way to contact you?
Ingrid: Phone – 250.448.9989
ingie@indigroove.ca
www.indigroove.ca