The Truck Graffiti Art Competition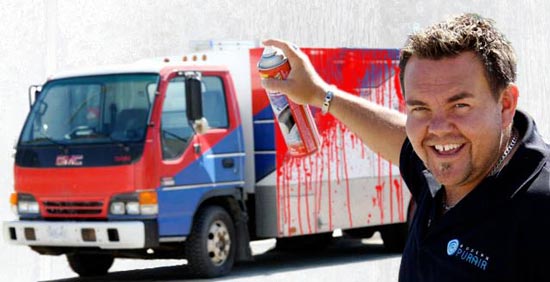 Modern PurAir has 3 old HVAC cleaning trucks that they need to sell. Before they sell them, they want artists to paint them! The company is giving a cash prize to the top artist on each truck at the end of the day.
Are you in?
Details:
The Truck Graffiti Art Competition
Friday, August 22nd from 11am to 3pm
Downtown Kelowna. (Location TBD)
Add the event here: http://www.facebook.com/home.php#/event.php?eid=21183472631
Entry:
Everyone is eligible: rookies and famous artists, bad boy taggers, random people that want to paint.
Rules:
Each artist has about an 18X18 inch square to paint on the truck.
Artists can use whatever medium they want.
Each artist has from 11am to 3pm to complete their square, but can use any amount of time they want.
Each square will be numbered, and the crowd on-hand will judge the final 3 paintings at the end.
Contact info
Tyler Wright
604-992-0718
tyler@megawattpr.com