Lovers in a Dangerous Time
Award Winning BC Film
LOVERS IN A DANGEROUS TIME
Returns to Landmark's Paramount Cinema!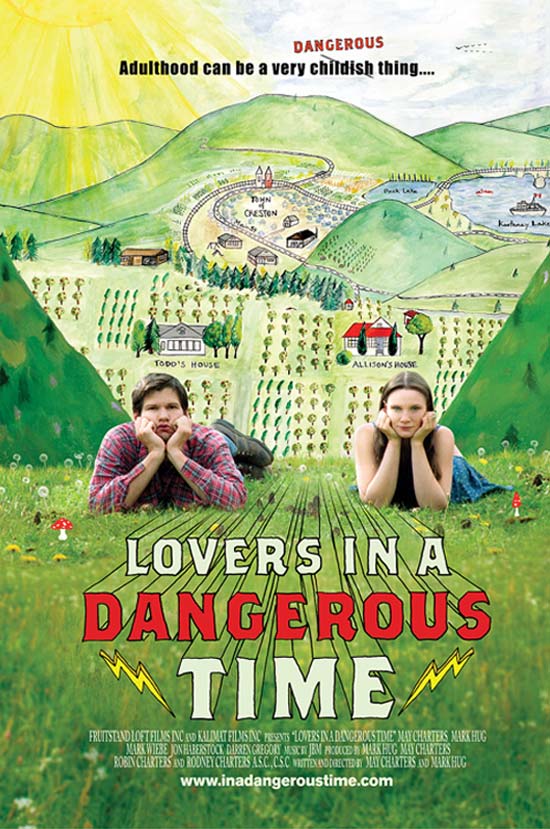 IndieFilmNet presents popular and critical festival hit Lovers In A Dangerous Time at Landmark's Paramount Cinema, opening on January 28th. Hailed as a date night movie that everyone on a date can enjoy, Kelowna audiences now have a chance to see why film festival fans adored Lovers In A Dangerous Time when it was the winner of the 'Best Canadian Feature Film' at the Okanagan International Film Festival, as well as the 'People's Choice' at the Calgary International Film Festival.
This is an against all odds filmmaking story: Two Canadian actors meet in an acting class in Hollywood and say, "Hey, let's go make a film in your hometown of Creston, British Columbia. We'll star in it, we'll direct it, we'll fund it (without grants), heck we'll even get our hometown friends to play the parts." They travelled by car 1400 miles each season to shoot in their home country and no matter what the set backs they prevailed to make a film entirely on their own means. This is normally the type of independent filmmaking that gives independent film a bad name. However, to the contrary, they came out the otherside with a charming film that just keeps winning audience's hearts. So much so, that Indiefilmnet and Landmark Theatres have gone out of their way to back it for a proper theatrical release in Western Canada.
Reached on location while on their latest project in France, Mark Hug remarked, "We're excited that the film is returning to the Paramount in Kelowna, as it's the film's launching point". The Okanagan International Film Festival was the first film festival to screen the film. Co-Creator May Charters adds, "The encouragement and support we recieved from Kelowna audiences really propelled the film forward. We hope we can get back to meet everybody there in January."
On the surface, the film is a tale of small-town romance that follows a pair of childhood friends that are reunited at their high school reunion in Creston, British Columbia. Dig a little deeper and it's a comedy about youthful regrets, a drama about a brotherly feud that has never been settled, as well as a portrait of what it means to be a kid at heart. It's a story where boy meets girl, only they have known each other since they were two. It's a romance, Canadian style.
See trailer preview of Lovers In A Dangerous Time here:
http://www.youtube.com/LDTmovie
Awards and Media:
"An undeniably lovely film: natural, gorgeously shot, haunting, funny!"
– ERIC VOLMERS, Calgary Herald
"This film tears away little pieces of your heart while making you blush and laugh out loud. It captures the pure essence of what it is to have dreamed, and to have loved, and to have lost."

- JULIA GILLMOR, Nelson Express Weekly
"The Hockey film perfectly married with the Art film"
– CLAIRE WEINGARTEN, Film Movement, NYC
"It has a rekindling love affair for the ladies and enough hockey references to make even Don Cherry blush…Love, hockey, beer, houseboat parties; need I say more? When it comes to Canadian cinema, this one's a gem"
– Erin F. CIFF
"I've seen the film and anyone who tends to despair for the future of narrative film (or just wants an enjoyable night at the movies) needs to see it as well. …Lovers in a Dangerous Time finds its centre in the reality of people's feelings and lives and allows story to grow rather than creating it in a test tube. A heresy against Hollywood convention, certainly, but when the result is a charming and heartfelt film like this, who's to complain?"
– ADRIAN BARNES, Rossland Telegraph.
The soundtrack that includes a new version of the Bruce Cockburn classic "Lovers in a Dangerous Time" covered by Montreal singer-songwriter JBM, who contributed 8 original tracks to the score.
For more information, please go to:
www.landmarkcinemas.ca
www.indiefilmnet.com
and