TV Heart Attack en Route to Canadian Music Week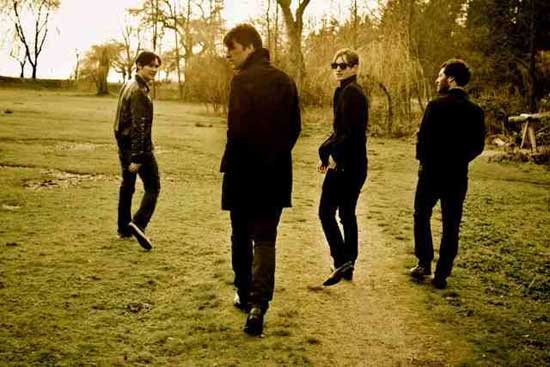 PRESS RELEASE
VANCOUVER ROCK BAND TV HEART ATTACK TO HIT KELOWNA EN ROUTE TO CANADIAN MUSIC WEEK IN TORONTO
February 2, 2010 – Vancouver rock band TV HEART ATTACK will introduce themselves to Toronto audiences at this year's Canadian Music Week (March 10-14). After a successful year in 2009 (The Peak Performance Project, Olympics Sega Game, Management deal), the band is ready to hit the road in support of their well-received EP Lost In The Sway. As local support for TVHA skyrockets, other cities such as Calgary, Edmonton, and New York have taken note. Hooking into the Toronto music scene is the obvious next step for TVHA, and they plan to do it loudly.
Lost In The Sway has given the bands live show "a sense of danger that we have only tapped into recently which, in my opinion, is paramount to rock and roll," says lead guitarist Art Guest. The band is focused and tighter than ever: new songs, new themes, and "a whole new grasp on what the 'TVHA' live show is all about," notes Jason Corbett, the band's frontman. TVHA audiences can expect to hear material that is "plain and simple, unhyphenated rock music that harks back to the stadium-fillers of prior decades, from glam-era David Bowie to grunge pioneers Nirvana," (The Georgia Straight).
TV HEART ATTACK is no stranger to touring, both big and small. In addition to multiple cross Canada tours, the band has opened for The Killers, played at Virgin Fest, and shared the stage with 54-40, Sloan, and The Von Bondies. Other recent accomplishments include appearances on the Whistler TV series and MTV's Kaya, an add to the Sega Olympics 2010 Game Soundtrack, a big budget music video for hit single 'AO', and attending the PEAK Performance Project Boot Camp (a $5.29 million project created by 100.5 The PEAK and Music BC to develop BC based emerging artists).
TVHA has experienced a good taste of success due to the fact that they have "no interest in letting time, money or indie status get in the way of (their) ambition," (See Magazine). Of course, having great songs does help.
TV HEART ATTACK will perform an all ages show on Tuesday March 2 at The Habitat (248 Leon Ave). The set time is 9:30 PM.
"Enticing hooks, big choruses, a swell of guitars, a flurry of drums and little time wasted." – CMJ Magazine
"TV Heart Attack packs the pieces of your broken heart into bittersweet hook filled rock songs. Their sound is exciting and vital. It's inspired and completely confessional." – The Vancouver Sun
"You will be humming along right quick." – The Province
"Through their connection with audiences and their ability to promote themselves, they're building their own brand." – See Magazine
"There is something that sets this Vancouver band apart from the music of two decades ago — the sheer size of its sound." – FFWD Weekly
For all media inquiries please contact Sarah Hawkins at sarah@shawkinspr.com
Shawkins Public Relations Co.